Nelly Sachs
Berlin 1891 - Stockholm 1970


The German writer and poet Nelly Sachs, whose original name was Leonie Sachs, was born to Jewish parents on December 10, 1891 in Berlin-Schöneberg. Her parents decided that their daughter should receive the benefits of private tuition.
In her father's library Nelly soon came into contact with the German classics and at the age of seventeen began to write first poems in the style of literary Impressionism. Her poems were published in various journals during the twenties. In her work of the thirties, Nelly Sachs dealt with the increase of Fascism in Germany and her Jewish roots, Hasidism and Kabbala.
Due to the threat of Nazism Nelly Sachs and her mother decided to emigrate to Sweden in 1940. They were helped by the Swedish writer Selma Lagerlöf. Sachs lived and worked in Sweden for the rest of her life, interrupted only by various stays in sanitariums and mental hospitals.

Nelly Sachs' work reflected the experience of the Nazi atrocities like no other, based on all her emotions and the horror of the holocaust plus her own years in exile. Her tragic fate inspired her most important pieces.
In 1950 Nelly's mother died and she wrote poems dealing with the loss. Two years later Sachs received Swedish citizenship. In 1965 Nelly Sachs published a volume of poems entitled "Späte Gedichte" and received the "Friedenspreis des Deutschen Buchhandels" that same year.
Together with the writer Samuel Josef Agnon, she received the Nobel Prize for Literature for her extraordinary work reflecting and interpreting the fate of Israel in a touchingly powerful and honest way in 1966.
On May 12, 1970 Nelly Sachs died in Stockholm.

Leo Trotski
Masch. Brief m. U.
3,552 $
Details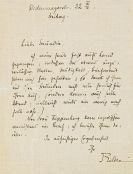 Rainer Maria Rilke
Eigh. Brief in Deutsch
2,775 $
Details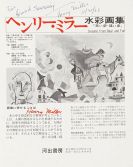 Henry Miller
Dreams from near and far
177 $
Details